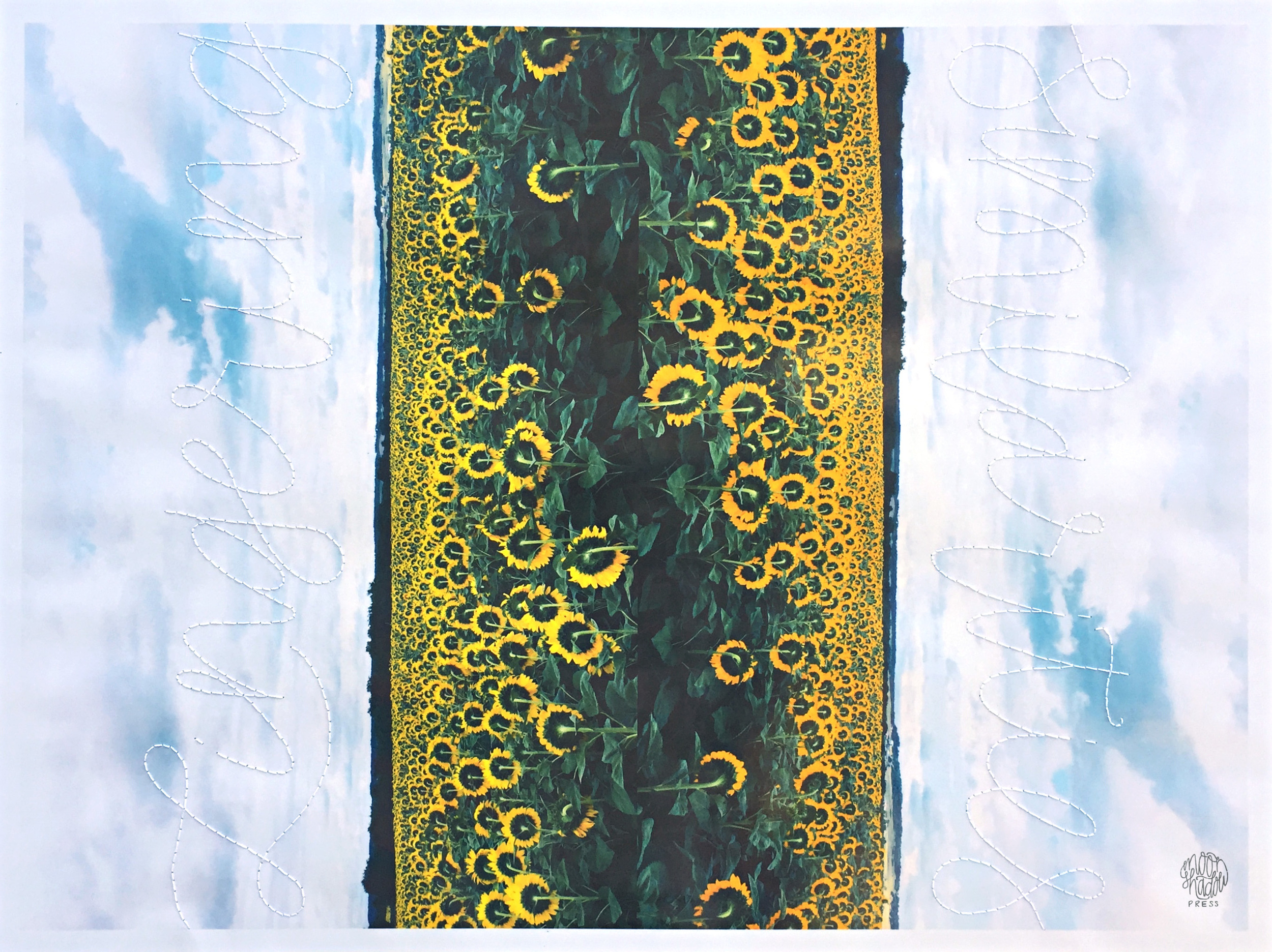 Cousins: Westerns, Watercolors, & Words
a group show by cousins Mary Buchholz, Renee Chastant, & Joyce McCown
January-February 2016
Back Lot Gallery | Brenham, TX
Nature, the outdoors, and landscapes are themes that all three of us Cousins share in some form or fashion within our work. Mary draws exquisitely fine, detailed scenes of life on a ranch; Renée paints watercolor animals, plants, and landscapes; and many landscape and floral images find their way into my growing embroidered photograph series. For our joint show, my work combines a concept that we all share and one that is unique to me: nature and words.
Flowers & Filigree has another definition at it's core. Within calligraphy, the term filigree is used to describe fine, flowing and looping lines drawn as embellishments. In general though, definition of filigree is "anything very delicate or fanciful." In this way, flowers are their own, nature based form of delicate ornamentation. My stitched piece merges fields of flowers and literary marks, layering them on top of each other.
Lingering Similarities plays with the definitions of the word cousin. One definition is: "one related by descent in a diverging line from a known common ancestor." Another is: "a person or thing related to another by similar natures, languages, geographical proximity, etc." While the three of us are from separate branches of our family tree, there are lingering similarities not only between our physical traits, but also our histories, memories, and artwork. The image I used is of a sunflower field in Ithaca, Texas. At first the field, which is split to the left and right side seems like mirrored images. However, it is not a perfect match, both in the mirrored quality and in the color of the flowers.
Family Tree is a chart of our family lines and names stitched into a abstract photograph I took of a tree. Within the chart, each cousin's name is boxed in with thread. Within the charted "tree," each of us comes from a separate branch of the family.